Steven Furtick is an American pastor, Gospel preacher, songwriter, and author. He is a founding member and the head pastor at Charlotte, North Carolina's Elevation Church, and a songwriter for the church's contemporary Christian band, Elevation Worship. Know more about Steven Furtick in this article and his Net Worth
Steven Furtick as a Pastor
Steven Furtick began his career as a music director at North Carolina's Christ Covenant Church. In early 2006, Furtick founded Elevation Church with its first official location in Charlotte, North Carolina.
Since then, Furtick is serving as the head pastor alongside his wife. Currently, Furtick holds weekly sermons to over 20,000 patrons. Furthermore, Furtick also reaches his followers via his social media and a weekly podcast.
Salary
In 2013, Steven evaded questions regarding his income and salary. Hence, his financial data is not as readily available on the web.
Nonetheless, according to Salary.com, a head pastor may make around $80,305 to $110,745 annually. Of course, several factors might skew that number in one direction or another, but the average base salary of a head pastor is around $97,709. This has led to significant addition in the net worth of Steven Furtick.
However, considering Elevation Church is one of the largest churches in the US and Steven is the head pastor and a songwriter and founder, he reportedly makes significantly more. Some sources claim that his salary is more around the high six figures or even seven figures. One site conjectured, in 2015, that Steven makes north of $545,000 each year.
Steven Furtick Net Worth
Based on reports from several online sources, Steven Furtick has an estimated net worth of around $55 million and $60 million.
Furtick founded Elevation Church, a Baptist church, in 2006. Elevation Church is one of the largest churches in America, with 20 locations in the US and Canada. The mega-church rakes in millions every year and, furthermore, donates millions to the less fortunate.
As founder and head pastor, Steven Furtick is the highest-paid member of Elevation Church. Not only does he oversee sermons and management, but he is also a songwriter for the two-time Grammy Award-nominated Christian worship band "Elevation Worship."
Additionally, Furtick is a New York Times bestselling author of five successful books.
Besides that, Furtick is also an eminent social media influencer. His Instagram, for instance, has over 3.5 million followers. Similarly, he boasts over 6 million followers on Facebook and 785.8k followers on Twitter. Furthermore, he has nearly 2 million subscribers on YouTube.
As a member of the Elevation Church, Steven is exempt from housing tax. Therefore, he saves hundreds of thousands of dollars despite owning several houses.
House, Cars, Lifestyle
NYDailyNews.com reported in late 2013 that Steven had purchased his third home, a $1.7 million mansion in Weddington, North Carolina. Unfortunately, Steven's antics caused a bit of an uproar as his congregation essentially financed the property.
The house is nestled deep within 19 acres of dense woodland. Furthermore, the home itself spans 8,400 square feet and has five bedrooms and 7 ½ bathrooms. Other amenities include a spacious garage, porch, basement, and attic.
Steven already owns two additional homes. His first home was a modest two-story 2,662 total square foot house in Charlotte, North Carolina. He reportedly bought the home in September 2005, before he founded Elevation Church, for $190,000. Subsequently, Steven sold the home in August 2012 on a $21,000 deficit, at $169,000.
In November 2007, just as his church was beginning to make bank, Steven purchased a $362.5k home in a Charlotte suburb.
More reflective of his stature than his first home, Steven's second home stood on 3647 square feet and had five bedrooms and four bathrooms. Unfortunately, since that time, the property has been devalued. According to current market value, the house is projected to bring in only $319,000 if it were to be sold.
Age
Steven Furtick was born on February 19, 1980. He is 41 years old at the time of this writing.
Ethnicity & Nationality
Steven is a native of Moncks Corner, South Carolina, USA, and holds US citizenship. The subject of his ethnicity, however, is not as straightforward. While some people mistake him for an African-American or partly African-American, Steven is, in fact, white.
Furthermore, talking to The Christian Post in June 2016, Steven spoke on the topic of racism in light of the Charleston church shooting a year earlier.
He further went on to reveal that his father held racist views towards African-Americans and tried to instill those views in his young self.
To bottom-line his views on race, Steven said,
"When you give God your heart, your broken heart … there's an exchange that happens at the foot of the cross, and He has a way to fill a heart with love that was filled with hate."
Height
According to IMDb, Steven Furtick stands at the height of 5 feet 9 inches (1.75 meters).
Tattoos
Steven Furtick belies the conventional belief that all pastors are strait-laced and clean-cut. Furtick sports several tattoos on his body, many of which are not well-hidden.
The most glaring is a tattoo of his face on his upper right arm. Furtick reportedly had the work done ahead of his visit to the Elevation Church in 2016. Tattoo artist Niko Van Drake of East Coast Inkz N Stuff parlor designed and emblazoned the piece.
Furthermore, Steven Furtick's tattoos include the phrase "Proverbs 18:22," a reference to the bible verse, inked on his body.
The meaning behind the verse is: "He who finds a wife finds what is good and receives favor from the Lord" — no doubt a tribute to his wife of 18 years, Holly.
Education
Furtick is a graduate of Berkeley High School in his hometown of Moncks Corner. Steven had a moment of epiphany when he read "Fresh Wind, Fresh Fire" at the age of 16 and had his calling to become a pastor.
Furtick pursued communications at Tigerville, NC's North Greenville University, to be a better orator and speaker. He subsequently earned his BA degree.
Then, with the skills of a master orator and religious zeal, Furtick enrolled in the Southern Baptist Theological Seminary, where he earned his Master of Divinity.
Is Steven Furtick a False Teacher?
Recently, Steven Furtick has invited a swell of controversy due to his financial dealings, salary, and earnings. As a result, Steven has a fair amount of detractors who claim that he is a false teacher. Of them, a few have gone a step further and called him a fraud and a liar.
The contemporary religion website Patheos.com wrote a particularly scathing piece on Steven Furtick. Grayson Gilbert, writing for Patheos.com, took exception to the fact that, by his admission, Steven was unqualified to lead a sermon.
In the article titled "Steven Furtick is the Worst Kind of False Teacher," Gilbert outlined Steven's inadequacies as a preacher.
Furthermore, Gilbert accused Steven of not understanding what he is saying or what he confidently asserts. Finally, to put a bottom line on Gilbert's views on Steven, Gilbert ended with:
"He is not a sound teacher. He is not the most obviously damning teacher, but he surely is one I'd say is the most cunning in his deception of the flock."
Michelle Lesley, on her website, brought up several of her own grievances with Steven. She accused him of false indoctrinations, twisting God's words, association with false prophets, etc. In conclusion, Lesley said she would not recommend his services.
Another website, ReformationCharlotte.org, further dragged Steven's name through the mud. The article begins by stating that Steven is a "demonic liar" and "a deceiver." Moreover, the report also proclaimed that Steven was,
"more like Satan than any angel of light he masquerades as."
Jeff Maples, who penned the scathing article, also accused Steven of heresy and preaching "false prosperity gospel." Furthermore, Maples also pointed to the fact that he financially prospered by bilking his congregation for money.
While the matter of Furtick's legitimacy as a preacher is still debatable, both sides have strong arguments.
Steven Furtick Family
Wife and Kids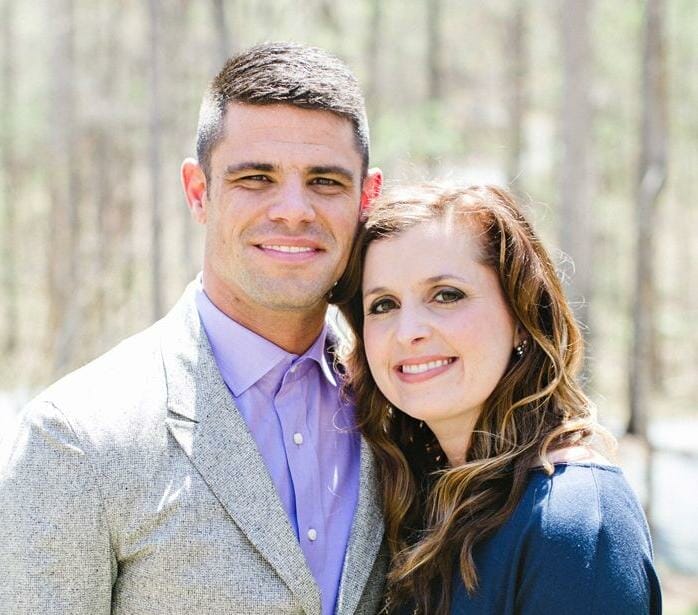 Steven Furtick is married since 2002 to his wife, Holly Boitnott. Holly is the co-founder of Elevation Church and its head pastor alongside Steven. Furthermore, Holly is also a cook, author, and preacher.
Steven and Holly are parents to three children: sons Elijah and Graham and daughter Abbey.
Parents
Steven Furtick is one of three children born to Larry Stevens Furtick, a barbershop owner and church teacher, and Faith Liles, a homemaker.
Steven's father passed away in June 2020 after a long battle with Amyotrophic Lateral Sclerosis (ALS); he was 60 years old at the time.
Steven held his father in high regard despite having a complicated relationship with his father, as chronicled in The Christian Post article above. In addition, he dedicated his 2012 book, "Greater," to his father, who was recently diagnosed with ALS.
Upon Larry's passing, Steven quoted a verse from the Bible,
"Those who have been ransomed by the LORD will return. They will enter Jerusalem singing, crowned with everlasting joy. Sorrow and mourning will disappear, and they will be filled with joy and gladness. (Isaiah 35:10)"
Siblings
Steven has two siblings: his sister Stephanie and his brother Matthew Furtick.
Steven's sister, Stephanie Furtick-Jones, is a wife and mother. She is married to Chris Jones, with whom she shares two children: daughter Hannah and son Austin.
On the other hand, Matthew Furtick is a US Air Force Staff Sergeant. He is unmarried as of this writing.
Church
Steven Furtick and his wife were one of eight Christ Covenant Church members who founded Elevation Church in 2006. Elevation Church convened its first service on February 5, 2006, hosting just over 120 people.
With Furtick at the helm, attendances skyrocketed, and by 2013, Elevation Church held services for some 15,000 people every week.
Elevation Church operates out of 20 locations across North Carolina, South Carolina, Virginia, and Florida to as far north as Toronto, Ontario, Canada.
Under his leadership, Elevation Church has exceeded $10 million in donations. Steven himself routinely hands out large bills to his employees to "spend it kindly on others."
Church Music Group
Besides hosting sermons, Steven is also the principal songwriter for "Elevation Worship," Elevation Church's official music group. Elevation Worship is currently signed to Sony Music Nashville.
The band has released eight independent studio albums, 11 live albums, eight EPs, and 19 singles as the lead artists. Furthermore, they have been nominated for several awards, including two Grammy Awards and eight Billboard Music Awards.
Books
Steven Furtick has authored nearly half a dozen books to date. Several of those books have made it into The New York Times bestsellers list.
His first book was the 2010's Sun Stand Still: What Happens When You Dare to Ask God for the Impossible. Subsequently, he authored Greater: Dream Bigger. Start Smaller. Ignite God's Vision for Your Life, in 2012. The book was a tribute to his father, who was struggling with ALS at the time.
Moreover, Furtick went on to author three more books: 2014's Crash the Chatterbox: Hearing God's Voice Above All Others, 2016's (Un)Qualified: How God Uses Broken People to Do Big Things, and 2017's Seven-Mile Miracle: Journey into the Presence of God Through the Last Words of Jesus."
Podcast
In addition to all the things Steven Furtick is involved in, it is a wonder he has time for anything else! Nonetheless, Furtick also hosts a weekly podcast called "Elevation with Steven Furtick."
Besides weekly sermons from Steven himself, the podcast also features other exclusive content from within Elevation Church.
His podcast is available to stream on Apple Podcasts, Spotify, SoundCloud, Google Podcast, Pandora, and Amazon Music.
| | |
| --- | --- |
| Information    | Details    |
| Date of Birth    | February 19, 1980 |
| Place of Birth    | Moncks Corner, South Carolina, USA |
| Nationality | American |
| Birth Name    | Steven Furtick, Jr. |
| Famous Name    | Steven Furtick |
| Age    | 41 years old |
| Height | 5 feet 9 inches (1.75 meters) |
| Parents | Faith Furtick (mother), Larry Stevens Furtick (father) |
| Profession    | Preacher, Pastor, Author, Songwriter |
| Years Active | 2006-present |
| Net Worth | Approx. $55 Million |
| Education | Berkeley High School, North Greenville University, Southern Baptist Theological Seminary |
| Married | Yes |
| Married To | Holly Furtick (2002 – ?) |
| Children | 3 |
| Online Presence | Instagram, Facebook, Twitter, Official Site |