There are very few who show devotion to God like Francis Chan. The one with Chinese heritage but Christian vows has been a Christ-follower since a young age. Currently, Francis is known for contributing to his religion by opening a Bible college and being a pastor.
Born on August 31, 1967, in San Francisco, Francis had God's values instilled in him by his Christian parents. As of today, doing God's work has blessed Francis with good wealth and a healthy family.
Who is Francis Chan?
Francis Chan is an individual with multiple professions. This Chinese-American is a pastor, preacher, teacher, and successful author. People trust Francis because he has a degree in divinity and biblical studies from The Master's Seminary.
Because of such credentials, people worldwide come to Cornerstone Community Church to listen to Francis, where he is a teaching pastor. Not only a pastor, but Francis founded this Church himself in 1994.
But that's not all, as ten years later, Francis opened Eternity Bible College in 2004.
Married to Wife Lisa Chan
Thousands of Francis's fans are aware that his wife is Lisa Chan. Francis wedded his wife in 1994 in a private venue attended only by friends and families.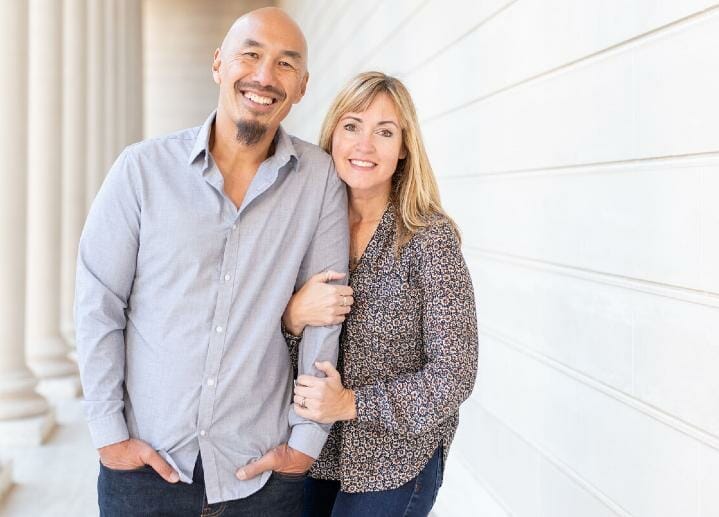 Love Life
Francis and Lisa are strong partners not just in their married life but profession-wise as well. Lisa and Francis jointly established Cornerstone Community Church. Likewise, the husband and wife wrote the book, You and Me Forever. In the book, Lisa and her husband explain how to keep a marriage strong and addresses every question regarding married life.
After 26 years of their marriage, Francis and Lisa still have a strong relationship.
Bio of Lisa Chan
Unlike Francis, Lisa is an American. However, the thing that brought Lisa and Francis together is God's will.
Despite coming to the limelight after tying the knot with Francis, Lisa still prefers to maintain a low-key profile. Some sources claim that Lisa is a singer. Lisa has also sung in Cornerstone Community Church.
Family
As mentioned earlier, Francis was born to religious parents. Francis made a career by doing God's work, and he hopes to pass this legacy to his children.
The US immigrants Pak-sum Chan and Wan-bing Mui were Francis's parents. Previously, his father was a minister at Hong Kong's Leighton Road Baptist Church, whereas his mother used to be called Hong Kong Baptist Church's Bible woman.
Unfortunately, Francis's mother died the day he was born due to excessive blood leakage. He was the third child in the Chan family and sibling of Grace and Paul.
After his mother's death, Francis's father sent him to his Buddhist grandmother while his father married his second wife, Amy Law. With Amy, Francis got a half-sister, Gloria.
Sadly, Francis's stepmother died in an automobile accident. This was followed by a second stepmother named Josephine Leung. Josephine raised all four children and was also a firm believer in God.
Reports say that Francis's marriage with Lisa gave birth to seven children. Besides their eldest daughter, Rachel Chan, every one of Francis's offspring lives a lowkey life. Rachel Chan is also a singer like her mother. She is a creator of religious and worship music albums.
Net Worth
Francis is an accomplished pastor with a net worth of $500,000. Being God's servant, Francis cannot use the money raised from Church since it will go for a good cause. However, Francis made an enormous wealth through other sources.
An experienced pastor like Francis makes $110,959 in California. Similarly, Chan's published books are his most significant source of income. Some of Chan's best works are Until Unity ($9.17), Crazy Love ($9.99), Letters to the Church ($9.49), You and Me Forever ($9.99), etc., have sold thousands of copies so far.
Lastly, Chan also makes a good income as a board member and ambassador of social justice organizations, like Gospel for Asia, Care for Children, and Children's Hunger Fund.