David Jeremiah's sermons have made him a popular Christian figure. The conservative Christian abides by the scriptures and does not compromise on his faith. With a humble start by founding the Blackhawk Church in 1969, David Jeremiah has come a long way to become one of the most followed preachers of Christianity. His radio show 'The Turning Point' broadcasts his message for god to all the believers around the globe.
In this article, we dive into the information about David Jeremiah's net worth, children, and his wife, Donna Jeremiah.
Who is David Jeremiah?
David Jeremiah is an American Pastor and an evangelist. He is from Toledo, U.S. David is famous for starting the Turning Point Radio show. James T and Ruby Jeremiah gave birth to the pastor on Feb 13, 1941. He spent his early life under the guidance of his father, who was a Baptist pastor himself. Furthermore, James Jeremiah was also a President at Cedarville University.
David is also an author and has written many books in his career. Coming from a religious background, he was drawn to the teachings of Christianity from an early age. In 1963, he completed his degree from the reputed Cedarville University. And without losing an academic year, he started his further studies. Finally, after four years, the pastor completed his Masters's in Dallas in 1967. Having enough education, he was ready to decide the course of his journey.
After three years of completing his education, the pastor started the Blackhawk Baptist Church. He settled in Indiana for the purpose and acted as the senior pastor. In 1973, he made an extension to the Church by starting the Blackhawk Christian School. As a result, he made a solid reputation for himself. Cedarville University entitled him the Honorary Doctor of Divinity. This further strengthened his cause. After serving as the senior pastor for more than a decade, he started another chapter in his book.
In 1981, he moved to California and started his famous 'Turning Point Ministry.' The thirty minutes long radio program broadcasted his sermons to an infinite audience. However, after a decade, the doctors diagnosed him with lymphoma. In late 1998, the pastor underwent surgery to remove and transplant his deformities.  Additionally, David also hosts Television programs like 'David Jeremiah' and 'Revealing Mysteries of Heaven.'
David Jeremiah is Married to His Wife Donna Jeremiah
David married Donna Jeremiah in 1963. In 2015, David made an announcement on his official Facebook page about his Stand Up tour event. The couple went to many cities. And they preached the word of God and 'stood up for Him', as the pastor likes to quote.  They went to Hershey and performed at The Giant Center in November 2015. The following year, the couple visited and put a show in many places like Phoenix and Atlanta.
How Old is David Jeremiah's Wife Donna Jeremiah?
Donna is an author and accompanies David during his world tours. The couple introduced four lovely children to this world who are grown up and invested in different professions. Furthermore, Donna is a grandmother to twelve grandkids.
To date, she has not revealed her age and personal information. However, unverified sources speculate that she is in her seventies.
Children
David Jeremiah is blessed with two sons and two daughters. The sons go by the names Daniel Jeremiah and David Michael Jeremiah. Similarly, the couple has named the daughters Jan and Jennifer Jeremiah.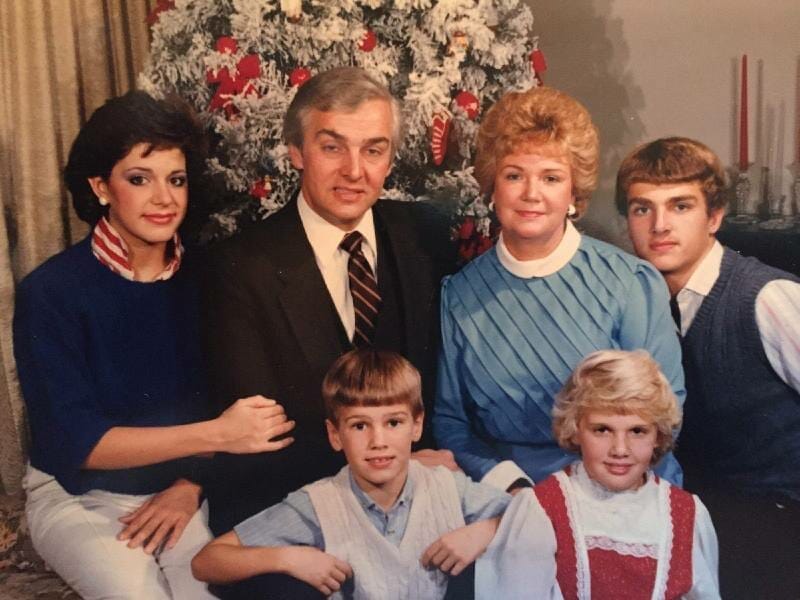 Daniel Jeremiah was born in Indiana in 1977. He is associated with the NFL Network and formerly scouted for potential players and gathered information. Currently, he is a sports analyst with the association.
Daniel started his NFL career as a professional player himself. In 1997, he got into the Northeastern Louisiana team and played as a quarterback. The following year, he joined the Appalachian State and remained there for two years. Daniel was in a relationship during their final year in his college. Moreover, in 2000, he exchanged wedding vows with Meredith Rae. Currently, the couple has four children.
Jennifer is a medical practitioner. The 47-year-old doctor has worked in the field for more than three decades. She attended the high school in her hometown and pursued her medical studies in the Brown Medical School.  Jennifer has two children, one boy, and a girl, and lives happily with her family in California. In 2021, her net worth is about $700,000.